Comprehensive Collection of 73 Ancient Roman Coins
Contains one coin representing (nearly) every Roman emperor between 14BC and 430AD
Fully attributed and described, housed in a custom presentation case
Accompanied by a full-colour copy of Gibbon's "Decline and Fall of the Roman Empire".
---
This incredible collection covers 400 years of the ancient Roman Empire.
If I meet someone new at a party and they ask me what I do for a living, once I let them know I'm a rare coin dealer some of them invariably say "You must love what you do!"
I have to then tell them that just like any other job or profession, the life of a full-time numismatist isn't all beer and skittles - we certainly aren't exempt from paperwork and compliance reporting!
After the honeymoon is over, the relentless grind and discipline required for a coin dealer to trade profitably and equitably over an extended period of time can be just as draining as any other role, no matter how exotic or fascinating our products might be.
Every now and then though, we get the opportunity to handle a coin, note or collection that is worth whatever tedium we might be asked to endure.
For mine, this set of ancient Roman coins has clearly been an all-time privilege to handle.
It contains 73 different coins from the ancient Roman Empire - each of the coins represents a different Roman emperor, spanning the timeframe between the rise of Augustus in 14BC right through to the demise of Honorius in 423AD. It is an incredibly comprehensive set - only 4 coins are missing from what might be regarded as a "complete" set covering the first 250 years of the Roman Empire. We've put a slideshow together that showcases each of the coins in this collection at the end of this page.
When we first saw them, the coins were housed in paper envelopes and in old vinyl sheets - the way they were presented certainly belied their incredible appeal and history. It turned out that, as is often the case, the collector that built the collection had passed away some time ago, and not having left instructions to his beneficiaries, the coins were stored as best a non-collector might think was appropriate.
The inheritors didn't know what the coins were, much less how much they were worth, but it didn't take long at all to discern that not only were the coins incredibly old and in fantastic condition, but they were curated together by someone that clearly had a deep interest in classical history, and wanted to showcase 450 years of one of the world's most important empires.
I'd like to think I have some skill at dealing in rare coins, but I wasn't prepared to make an estimation on the spot regarding value - collections like this that have been built with care and resolve are far and few between, and profit is a far lower priority than doing the right thing.
After expressing astonishment about the extent of the collection, we provided the beneficiary with a receipt for the coins and set about recording the details of each and every single coin.
After completing the appraisal, we contacted them the next day and let them know our offer, which they were delighted with - they weren't aware of the extent of the collector's interest in the series. We also let them know how apparent it was just how much effort, care and diligence it took to build the set, which again they weren't aware of.
Once the deal was complete, we set about attributing each of the coins in the collection, the list you see in the table below is the result of many hours work.
We also obtained a presentation case we believe is appropriate to house a collection of this calibre - each of the coins is now clearly stored in chronological order, they are split into different dynasties and eras. The coins required to build a complete set are also clearly identified.
Although this collection is pretty much as it was sold to us, we removed 3 low-value coins that were unidentifiable and tracked down two coins to plug gaps that were visible. (We had to contribute something to building it!)
We guarantee that each of the coins in the collection is genuine, has the details described and has been appraised in line with current market values.
We believe it really is an incredible body of work, one that can be enjoyed and kept as-is, or one that can be built on to craft an unparalleled collection of ancient Roman coins that spans the entire history of the Roman Empire.
So How Many Coins Exactly Might Constitute A "Complete" Set of These Coins?
Just what might constitute a "complete" set of coins representing all of the rulers of the Roman Empire is a truly challenging and vexing question. It begs further questions - when did the empire begin? When did it end? Who should properly be considered a ruler?
While I don't believe it is possible or necessary to definitively define the bounds of a "complete" set of these coins, I do believe it is possible to settle on parameters that will be recognized as being principled and reasonably accurate.
There is little argument that the Roman Empire began with Augustus in 27 B.C., yet there is much less certainty when it comes to defining the "end" of the Roman Empire. Reason being, there was no definitive "end" to the Roman Empire - it eased in significance and importance over a span of several centuries. If we use the coins included in this collection as a guide, the previous owner took the end of the empire to be complete when Emperor Honorius died in 423 AD. An arguably valid choice, as by that time the Visigoths had sacked Rome and the seat of "Roman" power was in Ravenna, some 360km north of Rome.
Other collectors and academics state that Romulus Augustus was the last in the unbroken line of emperors who ruled Rome. Aged just 16, in the face of ongoing attacks by Germanic tribes he abdicated and retired to the Gulf of Naples.
Whatever date you settle on as the end of the Roman Empire, this collection will serve as a comprehensive depiction of the might and power it wielded for close to 5 centuries.
Informational Book Included - "The Decline and Fall of the Roman Empire"
To complement this incredible collection, we're including an abridged and illustrated hardcover copy of Edward Gibbon's "The Decline and Fall of the Roman Empire". The complete version of Gibbon's work that was first published in 1776 is regarded as "...the standard reference on the history of the Roman Empire."
Gibbons himself is regarded as being "...one of the greatest literary figures of the 18th century."
When coupled with this incredible collection, that reference book will undoubtedly bring many hours of enjoyment and satisfaction in exploring the stories and lessons of the many figures involved in the history of ancient Rome.
The Presentation Case
The coinage of ancient Rome is a complex and enormous field - we've endeavoured to make it really simple to build on this collection by housing it in a presentation case that not only keeps the coins safe and organised, but also presents them in such in a way the various dynasties and eras are easily discernible. Each of the coins yet to be acquired are also easily identifiable, making this a finite set that the next owner can build on if they choose.
The Booklet
We're going to include a booklet that has a page of information on each coin in the set - all of the information you see in the keynote presentation below will be included.
As the next owner adds to the collection, we'll be pleased to prepare similar pages for each additional coin, yielding a trove of information that makes it easy to understand the characteristics and importance of each and every coin included.
The Price
In appraising the collection, we've made use of the latest auction prices realised for comparable coins sold in the United Kingdom; Europe and the United States. We're confident that the overall price offers excellent value for money.
If you choose to acquire this set and would like some support in rounding it out, we'll be pleased to work with you in doing so.
The set is available for viewing at our premises in Fremantle, please contact us via phone, email or our online chat tool if you'd like any more information at all.
This is a once-in-a-lifetime opportunity to acquire a comprehensive collection of ancient Roman coins that depict the grandeur of the history of Rome.
SKU: 210420
---
Standard Shipping
- $9.00
Signature is required on delivery
---
Express Shipping
- $15.00
Signature is required on delivery
---
Free pick-up from store
- $0.00
You're welcome to collect your order from our office (Shop 22; 27-35 William Street; Fremantle; 6160) during normal office hours. Please make sure to check we're open before you head on in!
We unconditionally guarantee the authenticity, title and grade of every item we sell. The tax invoices we supply ensure that you have these guarantees in writing.
Please review our Website Terms and Conditions for a complete explanation of the guarantees we provide.
All items ship within 24 hours of confirmed payment being received.
Please review our Website Terms and Conditions for a complete explanation of our availability guarantee.
All orders are delivered via trackable and insured mail at a flat rate of $9 for orders within Australia, and $25 internationally.
Australia Post Parcel Post within Australia can take up to 1 week to arrive, while EMS / ECI international mail can take up to 3 weeks.
Urgent orders can be sent via Australia Post Express Mail at special request.
Please review our Website Terms and Conditions for a complete explanation of our delivery guarantee.
Be The First To Review This Product!
Help other Sterling and Currency users shop smarter by writing reviews for products you have purchased.
More Top Picks
Andrew has hand-selected these items because they're either neat; rare; in impeccable condition, historic or all of the above.
If you're in the market for your own slice of numismatic history, we believe these coins and notes are definitely worth your first consideration.
The 1928 Ten Shilling note is as good quality as any pre-decimal note we've ever handled;
The set of Roman coins we have will suit the collector that wants to complete and hand down an incredible collection of historic coins;
Bonds like the one we've featured here make an excellent talking point for a boardroom or office;
The 1916 specimen set is one of only 7 known and is in absolutely impeccable condition;
The 1915 halfpenny is a superb example of one of Australia's rarest halfpennies.

---

I've taken my coins to Andrew a few times. Him and his staff are very nice people. Andrew is honest and down to earth. 👍

I have purchased several bulk lots of world coins from Sterling & Currency over the last few years. Not only are the selections I receive great (some duplication is par for the course), but the postage is truly cheap as chips. And I hope to be a customer for many more years. I've certainly never experienced any of the rudeness that other reviewers have mentioned. Read more...

I live on East Coast but prefer dealing with Andrew on the West due to his integrity, knowledge and prices, either buying or selling over many years. You will always do better buying from Andrew if your after quality and "real" coins.... If you take a coin to value and its a fake, he will tell you. If its valuable or mid range, he will be as honest with that valuation. After decades dealing with Andrew (and many other dealers as I have been collecting for well over 40 years), I am of the opinion that Stirling and Currency and particularly Andrew are the best numismatic dealers in Australia . Read more...

Just purchased a 1966 blue case decimal mint set. Andrew gave me a ring to ensure it had arrived and provided some very interesting and probably unknown information concerning these blue cases imported from South Africa during the apartheid era. Great service and a compendium of knowledge. Thanks! Read more...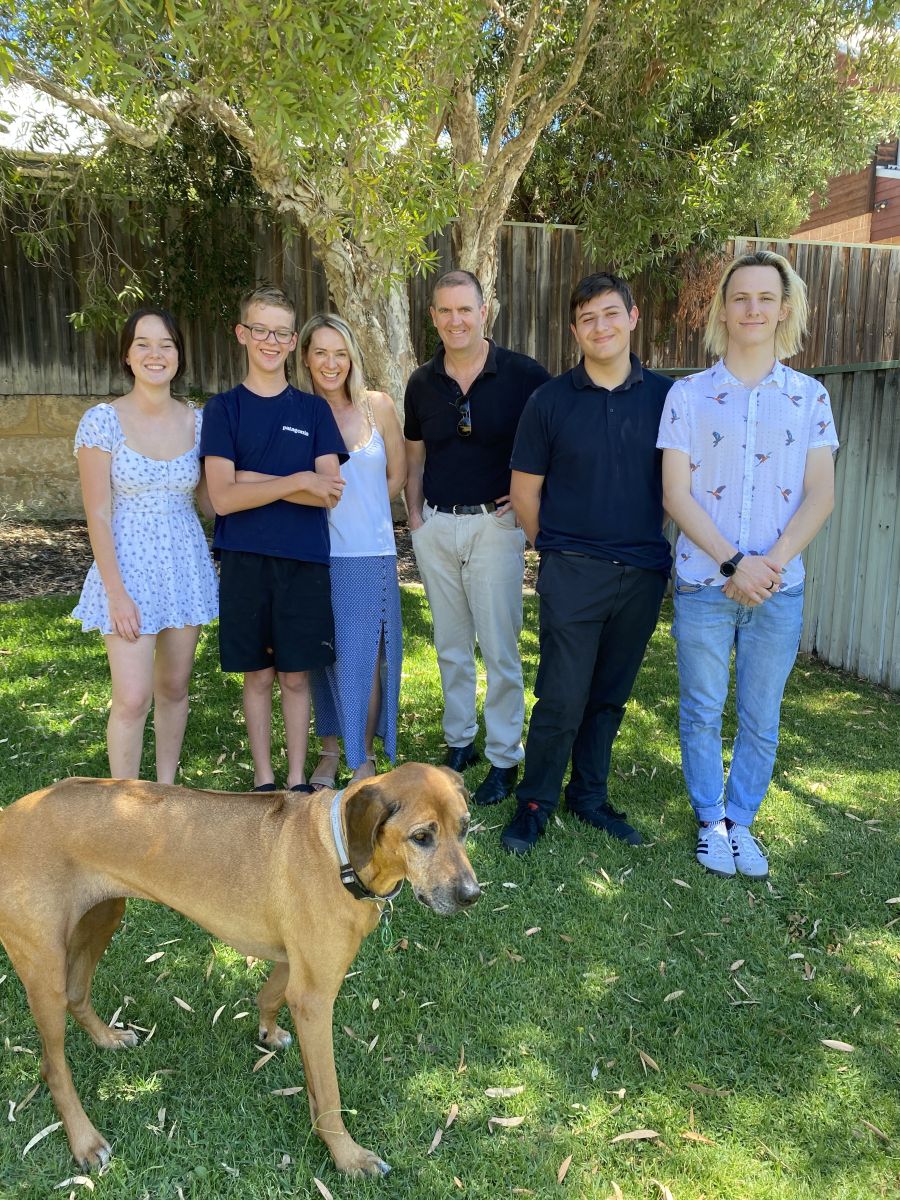 About the Sterling & Currency Team
The team at Sterling & Currency is a family affair – small but growing. Andrew Crellin is the main dealer in the business, click here to read this credentials and how he started with the Perth Mint; spent a decade in Sydney working with two leading dealers and relocated back to Perth in 2006.

Jo is our budding Numismatist, Chief Event officer, Photographer and Packing Extraordinaire. Natalie is our media creator and photographer. Nicole manages the accounts and is part of the Packing Team. A myriad of important duties are carried out by the team that include photography, website updates, office admin, and chocolate eating.

Ruby the Ridgeback quite frankly has learned nothing about coins, however contributes by barking at anyone wearing hi-viz.