Custom-Design Album With Interleaves for a Type Set of Japanese Invasion Money
Clearly Categorized and Illustrated in Colour
---
The ideal means of storing a comprehensive type collection of these historic and compelling banknotes.
Japanese Invasion Money (JIM) is the currency that was issued by Japan to replace local currencies of areas they had occupied, defeated or had plans to, in World War II.
JIM was officially known by the Japanese as"Southern Development Bank Notes".
The main purpose of introducing the new currencies was to cripple the economies of those areas they invaded, as with the introduction of JIM, the domestic currency in circulation was rendered worthless.
Japanese troops strongly enforced the use of their new money and harsh penalties (including death) were applied for people caught using non-JIM currency.

Japan's prime minister of the time, Matsuoka Yosuke, and the Japanese Government had a vision of a united Asian power lead by Japan.
This was to be known as"The Greater East Asia Co-Prosperity Sphere".
This concept, similar in theory to today's European Union, would be independent of the West and be a force lead by Japan for the greater prosperity of Asians.
Although Japan was promoting prosperity for all Asians, they still had a distinct pecking order within the nation's allies.

By the end of World War II, invasion monies were issued for:
- Philippines;

- Burma (Myanmar);

- Malaya (Malaysia, Singapore);

- The Dutch East Indies / Netherlands Indies (Indonesia) and

- Oceania (British New Guinea, the Solomon Islands , the Gilbert Islands and Australia).
Throughout WWII, JIM notes became souvenirs of returning soldiers who brought back captured notes to Australia and used these as proof of the intended invasion of Australia by Japanese forces.
Affordable, Complex, Historic and Interesting
JIM notes are an ideal area for the avid collector to become active in. They are a complex, historic and interesting series, the vast majority of them are very affordable. Unfortunately it is that complexity that stops a lot of potentially-interested collectors from starting out.
This album and interleaves solves that problem once and for all however - it clearly allocates each JIM note into an geographical area and into a chronological series.
Using this album, you can start with just collecting the notes that relate to one particular country or area, or you can work towards a complete type set collection that contains a note to represent each denomination and region.
For the collector that is a little more committed, you can add complexity by acquiring examples of certain / different prefixes, variations, propaganda notes, flyers and coins.
This set of interleaves provides a guide to build a collection of 49 Japanese Invasion Money notes from World War II. It represents the main denominations of notes produced for 5 regions:
- Burma

- Dutch East Indies

- Malaya

- Philippines

- Oceania
The album and interleaves have been designed to guide support collectors in building a "type" set of these notes, and is not intended to be an exhaustive representation of the many different variations and rarities that exist.
50 coloured dividing pages (interleaves) on firm card are included, along with a suitable number of archival-standard pages in clear Mylar to store the actual notes. The interleaves and Mylar pages are all housed in a Lighthouse Supreme album - worthy of the finest collection of JIM notes.
More detailed information on collecting these fascinating notes can be found in the book"The Collector Japanese Invasion Money", authored by Greg Hale.
SKU: 27928
---
Standard Shipping
- $9.00
Signature is required on delivery
---
Express Shipping
- $15.00
Signature is required on delivery
---
Free pick-up from store
- $0.00
You're welcome to collect your order from our office (Shop 22; 27-35 William Street; Fremantle; 6160) during normal office hours. Please make sure to check we're open before you head on in!
| | |
| --- | --- |
| SKU | 27928 |
| Shipping Width | 0.330m |
| Shipping Height | 0.060m |
| Shipping Length | 0.250m |
We unconditionally guarantee the authenticity, title and grade of every item we sell. The tax invoices we supply ensure that you have these guarantees in writing.
Please review our Website Terms and Conditions for a complete explanation of the guarantees we provide.
All items ship within 24 hours of confirmed payment being received.
Please review our Website Terms and Conditions for a complete explanation of our availability guarantee.
All orders are delivered via trackable and insured mail at a flat rate of $9 for orders within Australia, and $25 internationally.
Australia Post Parcel Post within Australia can take up to 1 week to arrive, while EMS / ECI international mail can take up to 3 weeks.
Urgent orders can be sent via Australia Post Express Mail at special request.
Please review our Website Terms and Conditions for a complete explanation of our delivery guarantee.
Be The First To Review This Product!
Help other Sterling and Currency users shop smarter by writing reviews for products you have purchased.

---

I've taken my coins to Andrew a few times. Him and his staff are very nice people. Andrew is honest and down to earth. 👍

I have purchased several bulk lots of world coins from Sterling & Currency over the last few years. Not only are the selections I receive great (some duplication is par for the course), but the postage is truly cheap as chips. And I hope to be a customer for many more years. I've certainly never experienced any of the rudeness that other reviewers have mentioned. Read more...

I live on East Coast but prefer dealing with Andrew on the West due to his integrity, knowledge and prices, either buying or selling over many years. You will always do better buying from Andrew if your after quality and "real" coins.... If you take a coin to value and its a fake, he will tell you. If its valuable or mid range, he will be as honest with that valuation. After decades dealing with Andrew (and many other dealers as I have been collecting for well over 40 years), I am of the opinion that Stirling and Currency and particularly Andrew are the best numismatic dealers in Australia . Read more...

Just purchased a 1966 blue case decimal mint set. Andrew gave me a ring to ensure it had arrived and provided some very interesting and probably unknown information concerning these blue cases imported from South Africa during the apartheid era. Great service and a compendium of knowledge. Thanks! Read more...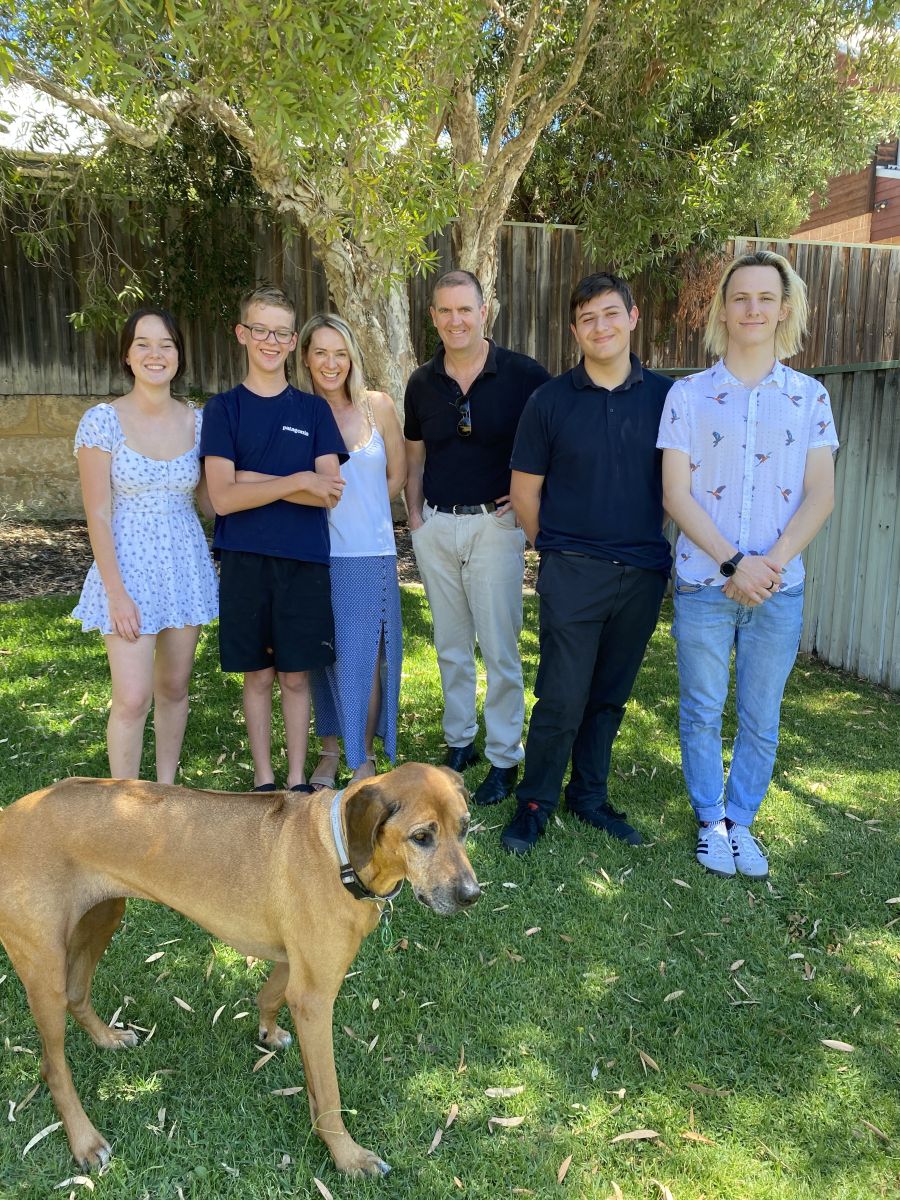 About the Sterling & Currency Team
The team at Sterling & Currency is a family affair – small but growing. Andrew Crellin is the main dealer in the business, click here to read this credentials and how he started with the Perth Mint; spent a decade in Sydney working with two leading dealers and relocated back to Perth in 2006.

Jo is our budding Numismatist, Chief Event officer, Photographer and Packing Extraordinaire. Natalie is our media creator and photographer. Nicole manages the accounts and is part of the Packing Team. A myriad of important duties are carried out by the team that include photography, website updates, office admin, and chocolate eating.

Ruby the Ridgeback quite frankly has learned nothing about coins, however contributes by barking at anyone wearing hi-viz.