George Shenton Unissued One Pound Trader's Note ca 1865 Extremely Fine
Front: Denomination in letters either side of central black swan. Space for serial numbers, signatures and date of issue below.
Back: Blank
---
This is an attractive example of an important and scarce WA trader's note.
A small number of shinplasters such as this were issued by several Western Australian merchants from the late 1800's to facilitate trade in the face of a lack of circulating currency and coinage.
George Shenton was an influential merchant in the formative years of the Swan River Colony, the Shenton name retains deep connections through the Western Australia community to this day.
Shenton is one of a very small number of merchants in this 3rd of the Australian continent who chose to issue their own currency note - he is also one of the earliest known.
The printer of this note is unknown, only four issued notes (signed, dated and with a serial number) are known. Issued notes are obviously quite rare but fortunately a small number of unissued remainders such as this are available to the collectors market.
They are an affordable and scarce representation of the energy found in the Swan River Colony in the 19th century.
The watermark used in the paper these notes were printed on has not been fully identified yet - we have handled several different examples over the years, and have seen several different sections of a larger pattern on each of them. It will be interesting to finally decipher what the watermark is!
About George Shenton Snr (1811 - 1867)
George Shenton was born in Winchester, England, and began his career as an apprentice to a devout Wesleyan pharmacist in Portsmouth at the age of 15. He later ventured to Western Australia in pursuit of better health and fortune. In Western Australia, Shenton played an active role in various community organizations, serving as a trustee for the Swan River Mechanics' Institute and the Western Australian Total Abstinence Society.
He was also known for his passion for gardening and contributed Cape Lilac trees to St George's Terrace. Strong religious convictions led him to serve the Wesleyan Methodist community as a lay preacher, Sunday school superintendent, and class leader. He also supported the church's missions to Aboriginal communities and generously contributed to the construction of Wesley Church in Perth. Shenton married Ann Catherina in 1838, and they had eleven children, with three sons and seven daughters.
About George Shenton Jnr (1842 - 1909)
Sir George Shenton was a merchant and politician born on March 4, 1842, in Perth, Western Australia, to George Shenton and Ann (nee Cousins). He traveled to England in 1855 to finish his education at the Wesleyan Collegiate Institute (Queen's College) in Taunton and returned in 1858 to join the family business. Following his father's death in 1867, he assumed control of the business and married Julia Theresa, the daughter of Lieutenant-Colonel Eichbaum, stationed at the imperial military base in Perth.
Shenton played a large role in public life with his membership in the Perth City Council, serving from 1867 and chaired from 1875 to 1877. He also held the position of Perth's first mayor from 1880 to 1884, being re-elected as mayor in 1886-88.
Sir George Shenton passed away on June 29, 1909, in London. He left behind six daughters, as his wife had predeceased him. His estate, valued at £186,627, consisted mainly of real estate. The government acquired his riverside residence, Crawley House, along with over 100 acres (40 hectares) of surrounding land, which later became the location of the University of Western Australia.
SKU: 18071
---
Standard Shipping
- $9.00
Signature is required on delivery
---
Express Shipping
- $15.00
Signature is required on delivery
---
Free pick-up from store
- $0.00
You're welcome to collect your order from our office (Shop 22; 27-35 William Street; Fremantle; 6160) during normal office hours. Please make sure to check we're open before you head on in!
| | |
| --- | --- |
| SKU | 18071 |
| Shipping Weight | 0.0500kg |
| Shipping Height | 0.001m |
We unconditionally guarantee the authenticity, title and grade of every item we sell. The tax invoices we supply ensure that you have these guarantees in writing.
Please review our Website Terms and Conditions for a complete explanation of the guarantees we provide.
All items ship within 24 hours of confirmed payment being received.
Please review our Website Terms and Conditions for a complete explanation of our availability guarantee.
All orders are delivered via trackable and insured mail at a flat rate of $9 for orders within Australia, and $25 internationally.
Australia Post Parcel Post within Australia can take up to 1 week to arrive, while EMS / ECI international mail can take up to 3 weeks.
Urgent orders can be sent via Australia Post Express Mail at special request.
Please review our Website Terms and Conditions for a complete explanation of our delivery guarantee.
Be The First To Review This Product!
Help other Sterling and Currency users shop smarter by writing reviews for products you have purchased.

---

I've taken my coins to Andrew a few times. Him and his staff are very nice people. Andrew is honest and down to earth. 👍

I have purchased several bulk lots of world coins from Sterling & Currency over the last few years. Not only are the selections I receive great (some duplication is par for the course), but the postage is truly cheap as chips. And I hope to be a customer for many more years. I've certainly never experienced any of the rudeness that other reviewers have mentioned. Read more...

I live on East Coast but prefer dealing with Andrew on the West due to his integrity, knowledge and prices, either buying or selling over many years. You will always do better buying from Andrew if your after quality and "real" coins.... If you take a coin to value and its a fake, he will tell you. If its valuable or mid range, he will be as honest with that valuation. After decades dealing with Andrew (and many other dealers as I have been collecting for well over 40 years), I am of the opinion that Stirling and Currency and particularly Andrew are the best numismatic dealers in Australia . Read more...

Just purchased a 1966 blue case decimal mint set. Andrew gave me a ring to ensure it had arrived and provided some very interesting and probably unknown information concerning these blue cases imported from South Africa during the apartheid era. Great service and a compendium of knowledge. Thanks! Read more...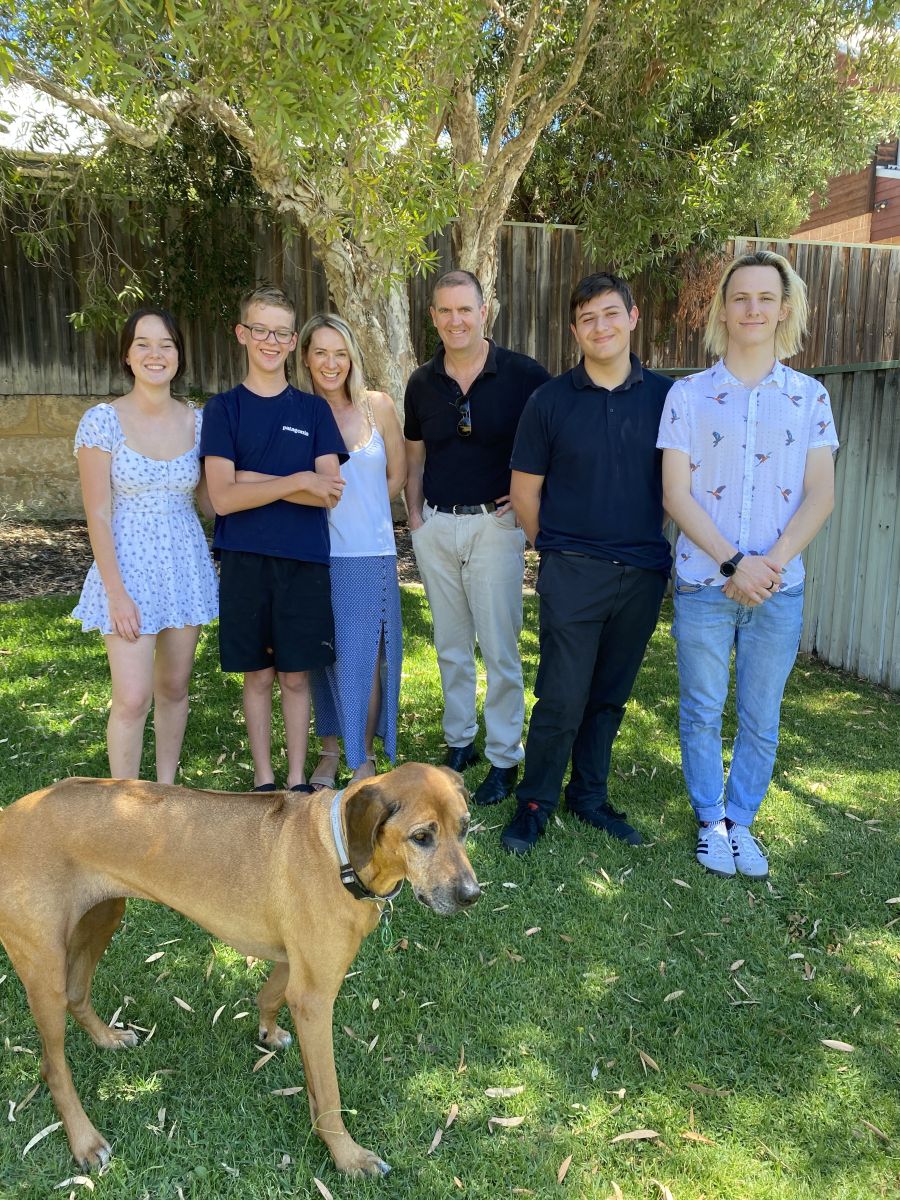 About the Sterling & Currency Team
The team at Sterling & Currency is a family affair – small but growing. Andrew Crellin is the main dealer in the business, click here to read this credentials and how he started with the Perth Mint; spent a decade in Sydney working with two leading dealers and relocated back to Perth in 2006.

Jo is our budding Numismatist, Chief Event officer, Photographer and Packing Extraordinaire. Natalie is our media creator and photographer. Nicole manages the accounts and is part of the Packing Team. A myriad of important duties are carried out by the team that include photography, website updates, office admin, and chocolate eating.

Ruby the Ridgeback quite frankly has learned nothing about coins, however contributes by barking at anyone wearing hi-viz.