The Royal Bank of Australia (Sydney) circa 1842
2 Pounds Unissued Printer's Proof
MVR# 1 good EF
---
Prepared for one of Australia's great entrepreneurial identities of the 19th century.
The "Royal Bank of Australia" is a trading name that has been chosen no less than 3 times over the past 180 years - twice by legitimate businesses (the second more legitimate than the first), and most recently (September 2017) by a budding "sovereign citizen" who is keen to test the legitimacy of the Australian legal system.
While the presently-unfolding third iteration of the "Royal Bank of Australia" makes for titillating reading (I submit to you that any story involving a chap that describes himself as the "King of Australia" and presents himself to the Federal Police for arrest while carrying a "dossier" on his criminal activities is at the very least titillating), it is the first iteration of the "Royal Bank of Australia"(that has been strangely confused with the Reserve Bank of Australia by several apparently reputable Australian media outlets in recent years) that we are interested in at present.
The Royal Bank of Australia - Ben Boyd's Private Bank
Colour me selfish, but when I think of having my own bank I think of having access to incredible wealth and being able to print my own money. It may well be that Ben Boyd made good on similar aspirations back in the 1840's.
Keep in mind, Boyd's dreams of unlocking incredible wealth in the Australian colonies came at least a decade before gold was discovered in Australia, which is quite some testament to his vision.
Ben Boyd (1801 - 1851) was a British stockbroker who foresaw great profits in the colonies of Australia. He raised £200,000 in funds from a wide range of Scottish investors, bought several steamships (a relatively new technology at that time), and embarked for New South Wales.
Boyd's arrived in NSW with a higher profile than he had at the time of his departure: "The arrival of Benjamin Boyd in Australia marked the beginning of a period of hitherto unknown commercial adventuring his exit, and subsequent mysterious disappearance, occasioned much conjecture, and, incidentally, cost the Government and a section of the business community of Sydney a considerable sum of money."
Despite its name, the Royal Bank of Australia Episode 1 has been described as "...never having functioned as an ordinary bank, and was probably never meant to. Instead, Boyd himself became the bank's chief debtor. From the first, he used its funds as if they were his own to invest in New South Wales." A paper published by RBA (the Reserve Bank of Australia) staff on the history of banking in Australia also states that "The bank, formed in 1839, never carried out more than cursory banking operations."
Boyd had decided to invest the funds of the Royal Bank in three industries: steamships, whaling and squatting. Without wanting to steal the thunder of any of the four books written on his life and times, Boyd was spectacularly unsuccessful in each of these areas.
Bank Notes and Sight Notes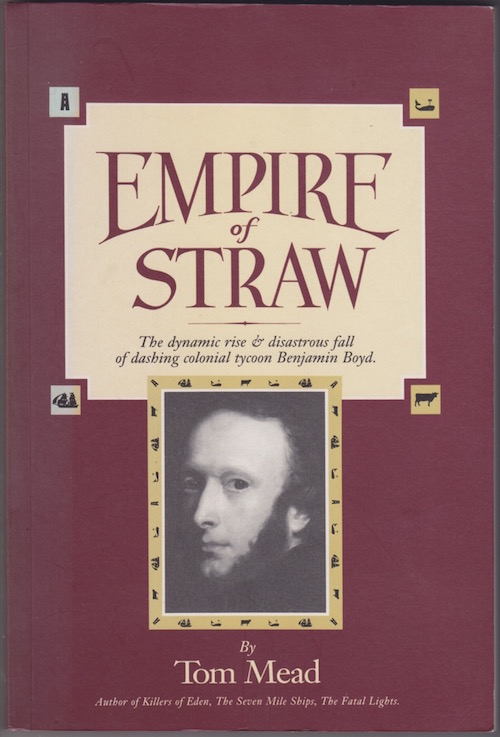 Not only did Boyd's Royal Bank of Australia issue notes, but Boyd also issued his own "sight notes": "In common with several other enterprises of the period, Benjamin Boyd issued private notes which could be used as currency and cashed at stated places. His notes were in denominations of five shillings and upwards to one pound. By means of this currency Boyd was enabled, in some degree, to lessen the strain upon his resources' of cash, for, in the majority of cases, employees paid at the settlement with these notes sought goods at the store to an appreciable amount of the face-value."
This particular note is a printer's proof of a Royal Bank of Australia two-pound note that is known in issued form.
Proofs from the Royal Bank are incredibly scarce and are a wonderful reminder of the hubris inherent in many of the entrepreneurs that staked a claim to Australia in the 19th century.
As a special bonus, we will include a copy of "Empire of Straw" with the note - it is a work of historical fiction based on the life of Ben Boyd. It is a cracking yarn, well worth reading by anyone interested in the history of enterprise in Australia (if only as a cautionary tale!)
[1] Wellings; H.P., "Benjamin Boyd in Australia (1842-1849) : shipping magnate, merchant, banker, pastoralist and station owner, Member of the Legislative Council, town planner, whaler", Sydney, ca 1940, p 1.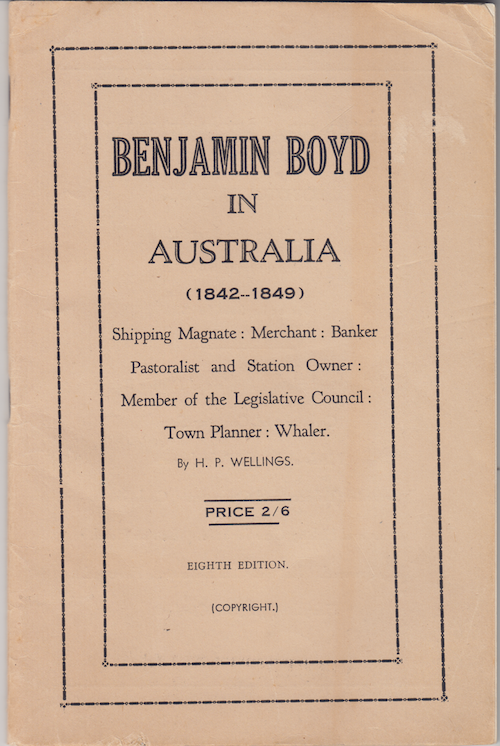 SKU: 206621
---
Standard Shipping
- $9.00
Signature is required on delivery
---
Express Shipping
- $15.00
Signature is required on delivery
---
Free pick-up from store
- $0.00
You're welcome to collect your order from our office (Shop 22; 27-35 William Street; Fremantle; 6160) during normal office hours. Please make sure to check we're open before you head on in!
| | |
| --- | --- |
| SKU | 206621 |
| Shipping Weight | 0.0500kg |
| Shipping Width | 0.215m |
| Shipping Height | 0.001m |
| Shipping Length | 0.140m |
| Assembled Length | 0.140m |
| Assembled Height | 0.001m |
| Assembled Width | 0.215m |
We unconditionally guarantee the authenticity, title and grade of every item we sell. The tax invoices we supply ensure that you have these guarantees in writing.
Please review our Website Terms and Conditions for a complete explanation of the guarantees we provide.
All items ship within 24 hours of confirmed payment being received.
Please review our Website Terms and Conditions for a complete explanation of our availability guarantee.
All orders are delivered via trackable and insured mail at a flat rate of $8 for orders within Australia, and $25 internationally.
Australia Post Parcel Post within Australia can take up to 1 week to arrive, while EMS / ECI international mail can take up to 3 weeks.
Urgent orders can be sent via Australia Post Express Mail at special request.
Please review our Website Terms and Conditions for a complete explanation of our delivery guarantee.
Be The First To Review This Product!
Help other Sterling & Currency users shop smarter by writing reviews for products you have purchased.